About Us
Ode to Crow Lake
by Peter Albright
There is a lake – with countless islands that are
 nameless.
And the inlets and bays all run heaven knows where;
Where shiner minnows and chubs dart through the
beaver dams,
And Northeren, Bass and Muskie spawn.
There is a lake-with forests unspolied and still,
Where the blue waters are so cold and deep
sparkling in the sunlight so clear and clean;
Where schools of lake trout challenge a fisherman's
 skill.
Just drifting or trolling with thoughts all his own,
With crows breaking the silence with loud raucous calls.
There is a lake-where graceful gulls wing their
endless flights;
Screeching and squabbling over discarded delights,
While the fisherman enjoys his tasty shore lunch;
Stretches his legs with hat over his eyes or picks enough blueberries for a couple of pies,
With blazing sunsets you wouldn't believe
And the loon's lonesome call breaks the stillness of eve.
There is a lake-Oh! how it beckons and calls;
I want to go back to Crow Lake-
And I will.
Muskie Bay Camp
by Joyce (Tolen) Albright
Muskie Bay Camp located on Crow Lake (Kakagi Lake) had its beginning in 1947. Joyce's father and mother, John and Anna Tolen, purchased crown land as their camp building site. While living in a tent they cleared the land and even before the road constructed by Linton Judson, the materials were carried in by hand and three cabins were built that first summer. Joyce's parents were assisted by family friend, Marius Amot, a carpenter who in laters years purchased Muskie Bay Camp. Much of the lumber for the cabins were lined with knotty pine. In the next couple of years, three more cottages wered added.
We think that Muskie Bay Camp has had more than its share of wonderful people staying. Many of the children and grandchildren of the original people are still coming to Muskie Bay Camp.
In 1966 due to Joyce's mothers illness the camp was sold to long time friend Marius Arnot, who had worked for her parents for many years. Marius opereated Muskie Bay Camp for eleven summers. Then in 1977, Joyce and her husband Peter Albright purchased the camp.
In 1993 Jeff and Martine Monet purchased Muskie Bay Camp from Joyce and Peter Albright. They built the main lodge/motel in 1994 they added a new septic system, as well and many improvements to the cabins.
We purchased Muskie Bay Camp and renamed it Muskie Bay Resort in 1999 we are the current owners Paul and Christine Trinkner.
Paul's parents in 1970 put a down payment on a camp near Kenora. While they were in the process of purchasing the camp Paul's brother had a fatal accident, resulting in his death. Paul's mother devasted from the loss, could not go through with the move from Milwaukee, Wisconsin to Canada. Paul had always wished to live his parents dream of running a camp in Canada. After taking our family to Canada on vacation we talked about how we would love to live that dream. After many steps and leaving our daughter Desiree behind and the process of selling our home in Iola, Wisconsin the lord answered our prayers.
We have three grown children that are now married and we are blessed with 8 Grandchildren. Our daughter Desiree and her family live and work in New Braunfels, TX. Our son Josh and his family live and work in Appleton, Wisconsin. We live here with our youngest son Jacob, his wife Ashley and their two sons, Ashton and Devin.
We are the Trinkner's, this is our home and we welcome you to join us and to share with us the" good life" we live at Muskie Bay Resort.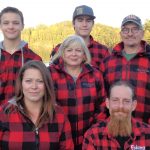 1-877-228-2076  1-807-484-0573
email: muskiebay@hotmail.com