Ontario Canada- Lake of the Woods- Crow Lake-
Muskie Bay Resort Sioux Narrows-Nestor Falls
Muskie Bay Resort your all year vacation destination.
Muskie Bay Resort has access to three major bodies of of water. Crow Lake, the upper part of Lake of the Woods, Whitefish Bay and the lower part of Lake of the Woods Sabaskong Bay. With a short walk into lakes that have excellent smallmouth bass, walleye, northern pike. After a great day enjoy the hot tub and sauna , take a canoe ride (free to use) out to enjoy the the sunset. Enjoy the bonfire at the lakeside patio. Bring your own beverage and share stories of the day.
Muskie Bay Resorts cabins and motel all with air conditioning, Sat TV, many with dishwashers and WIFI. 
Crow Lake with over 30,000 acres of clear deep water and Lake of the Woods with 14,000 islands, 65,000 miles of shoreline, there are many opportunities to view and appreciate nature's wonders. Our landscape also provides the perfect setting for many outdoor adventures such as snowmobile tours or lake tours, ice fishing, Trophy hunts, hiking and climbing. This region is nothing short of spectacular! Our scenic countryside year-round is sure to meet your travel needs.
The opportunity for you to take home that prized trophy is here, our lakes are loaded with lake trout, pike, muskie, perch, walleye, small and large mouth bass, whitefish and crappie.  There are also high populations of Ontario Black Bear and Ontario Whitetail Deer meaning you are almost guaranteed success. Our experienced outfitters know where the big game is and have everything you need for a successful hunt. Ontario Canada also provides excellent habitat for a variety of grouse. These ground-birds include sharp-tails, spruce, and ruffed grouse.
We also offer great Ontario Bird Hunt opportunities. Mallards, blue bills, teals, and mergansers along with several other species of ducks migrate through the region in the autumn. There is also good hunting opportunities for Canadian geese. With thousands of lakes to choose from is a veritable duck paradise – ensuring that you'll achieve success during your hunt.
Year-Round Resort- Motel – Lake View Lodging!
Muskie Bay Resort offers fully modern year-round motel and resort lodging with American Plan and Housekeeping Plan Packages available.
American Plan: We would like to make it easy for you… after all, you are on vacation!!! Our American Plan lets us do the worrying; all you have to do is get here.
Our family invites you to come and experience all the great outdoors that Ontario Canada Fishing and Ontario Canada Hunting has to offer here at Muskie Bay Resort Nestor Falls.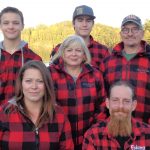 Paul, Chris, Jake, Ashley, Ashton and Devin Trinkner
Call us toll free: 1-877-228-2076 Toll Free ; 1-608-469-3644 Paul's Cell; 1-807-271-3015 Chris's Cell
email muskiebay@hotmail.com