Boat & Equipment Rental
This winter 2019 we are offering a ice house rental 1-3 pp for 110.00 a day US and 75.00 a 1/2 day. Our sled rentals are 150.00 includes 5 gals of gas a day for a two man wide track snowmobile.  Give us a call at 1-877-228-2076.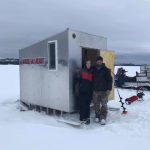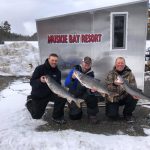 The boats are available at 5:00 pm the day of arrival.  We rent 17.5 foot boats with 4 stroke 50 hp motors, bow mount trolling motor with dual 12 volt batteries with on board chargers, casting deck, storage, live wells and bait well. Our boats come with Lowrance colored GPS locators with a map chip, this feature on our boats will save you a minimum of 2 days of paying a guide. This complete map chip of Lake of the Woods shows you the contour, soft or hard bottom, sand bars, reefs and extended points. This feature will give you the confidence to navigate the boat giving, you more opportunity to fish.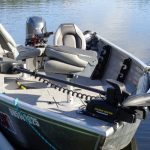 The boats include 5 gallons of gas a day, landing net (muskie or walleye) minnow bucket and if needed trolling rod holders.
When you rent our boats this will include going to our boats, motors and gas on our portage lakes. With our portage lakes upon request and availablilty we offer a stearn mount trolling motor and portable locator.
Another large attribute to renting our boats includes our transporting boats to other lakes upon request.
As an added convenience to our  guests, that stay with us is free docking we have three docks on Crow Lake and a dock on Lake of the Woods in Stevens Bay and includes launching and parking when you bring your own boat.