Ontario Whitetail Deer Hunt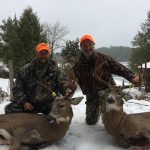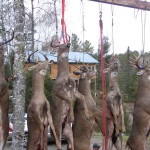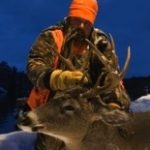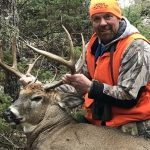 Ontario Whitetail Deer Hunting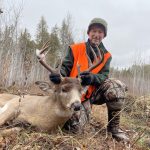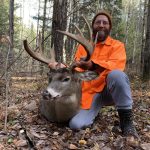 This is a gun or bow hunter's dream. Hunts for bow hunters start Sept 15 through November 15; gun season starts the first Sat of October through November 15th. You could easily do both.
We are hunting on over one million acres of government land. Over 80% of our hunts are done on islands and peninsula that are on our Lake of the Woods or Crow Lake.
To grasp the tremendous mass of area we are hunting, you should first know this. Lake of the Woods has over one million surface acres of water. Over 14,684 islands, more than 65,000 miles of shoreline; Crow Lake is a 30,000-acre lake.
Fact is, we need not ever hunt the same island or peninsula more than once. Providing every group that hunts with us, fresh untouched or previously disturbed trophy white tail opportunities.
Ontario Whitetail Deer has consistently and will continue to produce heavier bodied (largest body size in North America) and large racked deer. They are plentiful here.
Racks ranging from 10-20 points are not uncommon. Field dressed, these deer are weighing from 225 to 300 lbs. The deer range from 130's to mid 170's typical, 165 to 250 non typical. Ontario Whitetail Deer hosts the second largest population of white tail deer in all of Canada!
We have a mix of terrain-from high rocky, heavily treed ground to low swampy areas and beaver ponds. There are over 1 million acres of boreal forest surrounding undoubtedly the finest forage, cover and protection that make for bigger, older deer. This is the best place for reclusive old bucks to get away from the hunting pressure.
This is perhaps the finest, true Ontario White tail hunt left in North America. You must be in relatively good shape, as you may expect to walk 2-8 miles a day. (We can accommodate)
Our hunts run 5 days and are buck only. All hunting areas have been pre-scouted to help insure a successful hunt!! The methods vary with the area your hunting, size of your party, weather, and wind directions. You have never hunted woods until you have hunted our bush
 Ontario Whitetail Deer hunting package:
This all-inclusive hunt includes:
Accommodations
Meals: Dinner the night you arrive, breakfast the day you depart. During your stay we start breakfast an hour before daybreak and serve dinner an hour after sunset.
One guide for every three hunters
All transportation to and from hunting areas
Pre-scouting
Stands
Tracking
Help getting animal back to camp.
Game processing is available at prevailing cost
Chest freezer is available
Whitetail Deer Hunt Rates
This five-day hunt is only $1920.00 per hunter.
Deposit required $500.00 per hunter. This does not include hunting license, taxes (13%), tips, transportation to lodge, export license, or deer disposal fee. Prices are in US dollars
---